Testimonials
Check out what people are saying about us!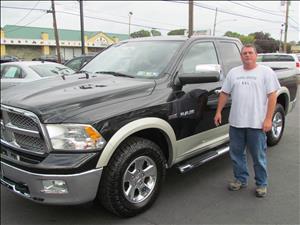 Bo's new RAM 1500!!
Congratulations to Bo on his new RAM 1500 Laramie!!  Enjoy your truck and many safe miles!! Jamie & Jeff
Vicki's new Hyundai Sonata!!!! #rescue
Donna's new Hyundai Elantra
5 STAR RATING FOR MANCINI MOTORS !!! By Donna S. from North Wales, PA | June 14, 2013 Just bought a replacement vehicle @ Mancini Motors for my car that was totaled in an accident a month and a half ago. Since then, I have spent countless hrs. online looking for another car. I think of all the time and energy (and gasoline) I wasted test-driving different cars that didn't feel right or were too expensive that the salesman was trying to push off on me when all I needed to do was come to Mancini Motors! When I told different salesmen @ various lots that I wanted to stay below $10,000, some of them sneered at me and practically laughed and told me they had nothing for me. I came across Mancini Motors and found numerous cars that fit my needs and my budget. I only wish I had known about this place sooner!! Jeff and Jamie were great! They answered all my questions and could not have been more accomodating!! It was the most pleasant car buying experience I have had!! I highly recommend Jeff and Jamie to anyone who is looking for a quality used car at a reasonable price!! Hopefully, it won't be for awhile, but when I am in the market for another car, I will start w/ these guys!! AND THEY DIDN'T EVEN PAY ME TO SAY ALL THIS!!! ---Thank you Donna!!! Jamie and Jeff
Santa
Santa decided to trade in his sleigh for something more comfortable this year. Mr. and Mrs. Claus are looking forward to the long drive back to the North Pole in their 2003 Ford Taurus from Mancini Motors!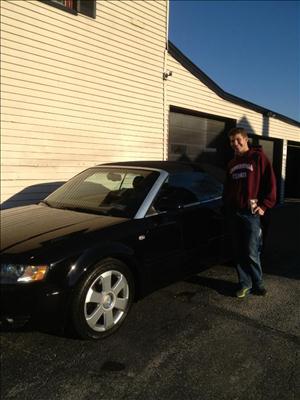 Audi
Chris with his 2006 Audi A4 Convertible!! Thanks Chris!
Letter from a satisfied customer
Dear Jamie, I just wanted to thank you for your consideration with the A/C repairs to the Hummer.  It's not often you come across someone who is more than willing to go the extra mile.  As you know I have been having a bit of a hard time with my granddaughter leaving for the Navy.  I have a son also leaving for Afghanistan and things have been turned upside down for me right now.  I do want you to know that I really love this Hummer, it is what I have wanted for a very long time and you and Genysis Credit Union have made it possible for me to finally own one.  Once again, thank you and it has been great doing business with you and I hope to do so again someday.  If you're ever in the Danville area please be sure to look us up and maybe we can return your hospitality and buy you a pizza :) -Judy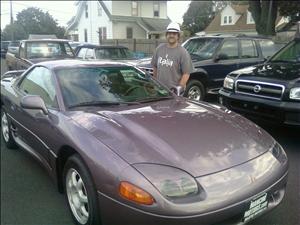 Anthony's Mitsubishi 3000 GT
Anthony posing with his new 1996 Mitsubishi 3000GT.  Congratulations Anthony!!!
1 of 1