Testimonials
Check out what people are saying about us!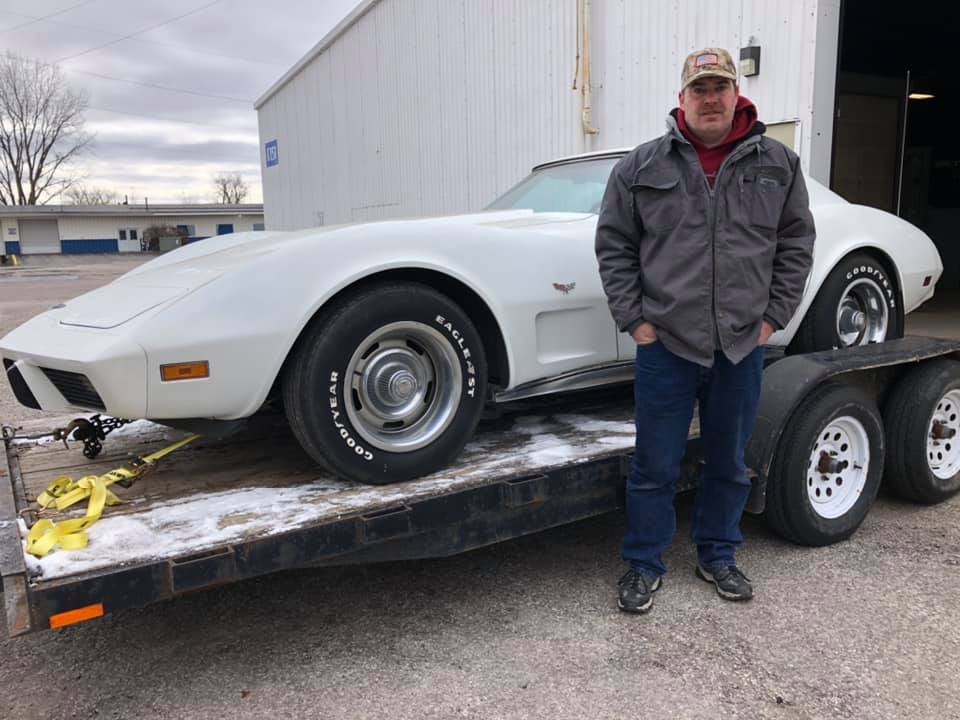 Bill H. 77 Corvette - Cadillac, MI
I would like to thank Adrenaline Motorsports for making the purchase of my 1977 Corvette possible. Especially Steve for being so honest about everything he told me over the phone. It was the best buying experience I have ever had.  Steve made the time to meet me on the weekend and did not rush me, and let me check out all the other cool cars that we at the dealership. This was the cleanest 77 I looked at, better then he said.  GREAT guy and I recommend him to anyone else looking to buy. Thanks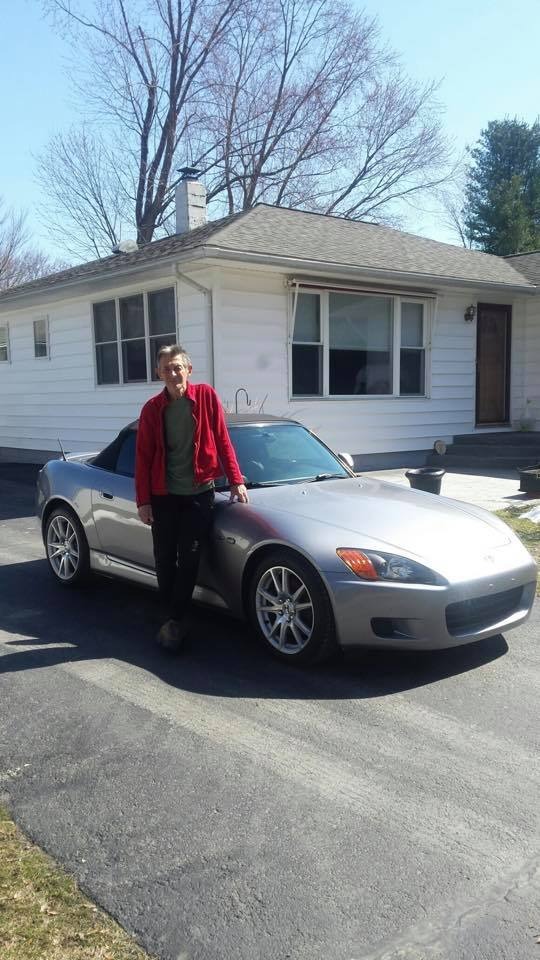 Jon L. 00 Honda S2000 - NY
I bought a 20 year old Honda S2000 From Steve, SIGHT UNSEEN. As I live in NY. Based on his web site listing and talking with him many times. Steve made buying easy. Like many car enthusiasts I look on line all over the country to find the right car. Its fun, but can be risky. Many of us say to ourselfs "boy I wish I knew someone in (XYZ) town, that I could trust to look at this car" Hoping it's as advertised. That is where Steve comes in. He is not only an honest and reliabe dealer. He's those eyes and ears you can count on to give you a knowledgeable, HONEST, assesment of the car you're looking at. This was my first Adrenaline Motorsports purchase and likely not my last. When the car arrived it was better then he said. Extremely Impressed, You can trust this guy.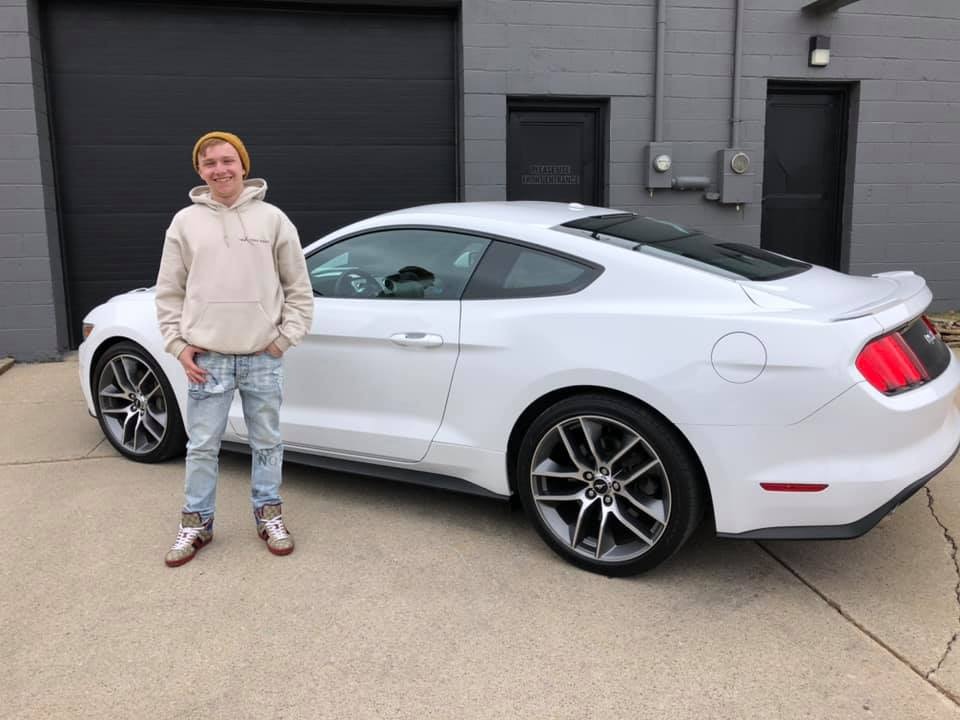 Griffin V. 17 Mustang GT Grand Rapids, MI
I drove 2 hours, 1-way to buy my Mustang GT. Seller (Steve) was more then honest, very upfront, and timely in his responses. The car, WOW was way better then expected. And the buying process was quick and seamless, hands down the the best buying experiences I have ever had buying a car - I was on my way in an hour. Highly recommended and will buy from again!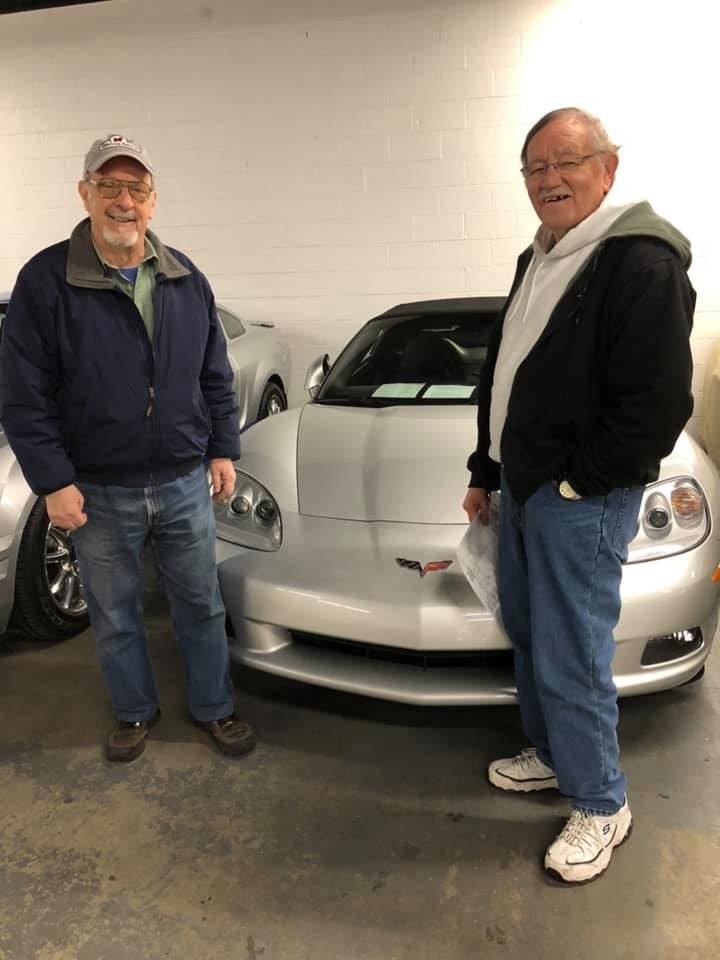 Mike B.-2009 Corvette Conv (Greenville, MI)
I Called Adrenaline Motorsports Inc. Now I know as (Steve) from an add I seen with the silver 09 Corvette Convertible that I though looked good, been watching the add for a little while and wanted to call before the weather got nice outside. Never heard of this Company so I wanted to see if I felt good about pursuing the car. Steve was very nice, low key, told me about the car and I made an appointment to drive almost 2 hours to see it. Met a friend in Midland and we went to look at the car. I was sold when I saw it. Extremely clean well kept car. Everything Steve told me it would be. I was impressed. I left a deposit, Drove back to Greenville and got with my Credit Union and got the car. Steve even helped with the delivery of the car to my front door.. Very good deal happy I took the ride.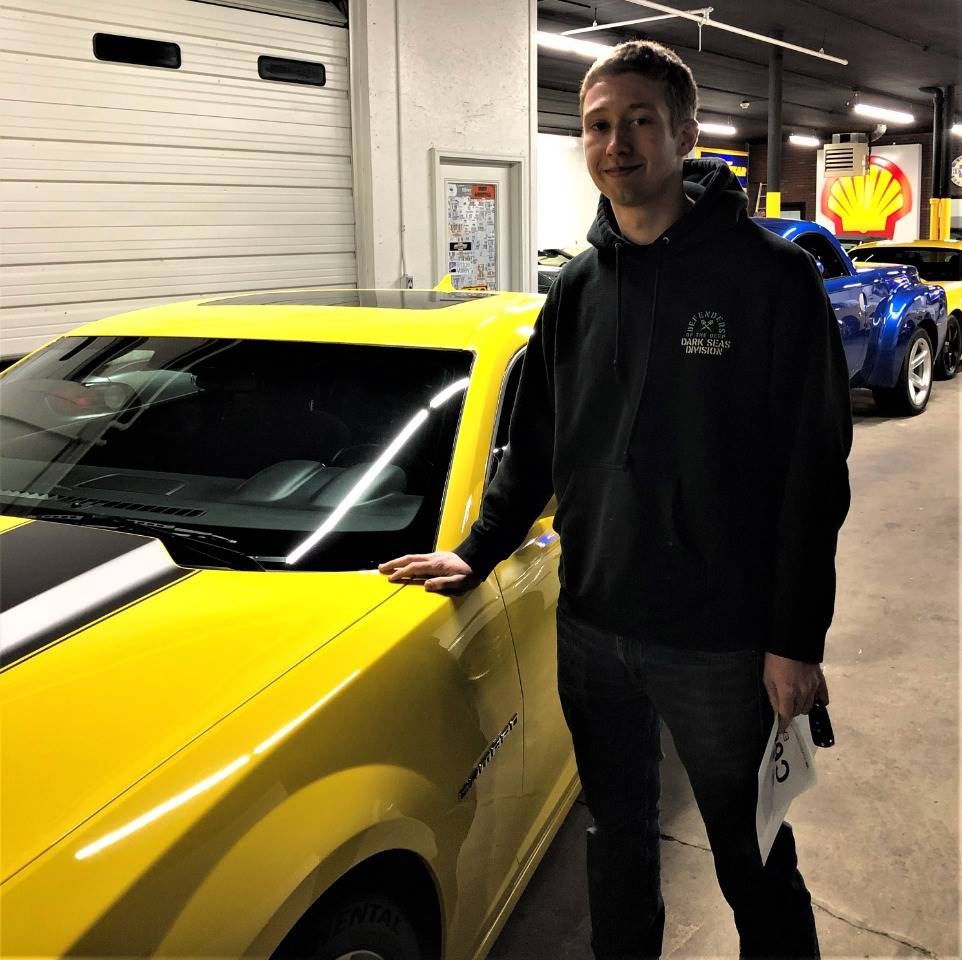 Preston S. - 2014 Camaro LT (Montrose, MI)
I called Steve and set up an appointment after hours. When we got there I loved the car! The condition was as described (AWESOME). Me and my Dad went for a test drive and it was a great car. I put down a deposit. Came back two days later and it's mine. This is the best place to get a great car! I found my dream car!  
Tim P. - 00 Corvette Conv. (Battle Creek, MI)
I found this car on car gurus. Adrenaline Motorsports had the Corvette I was interested in. I live on the other side of the state and have a friend that lives in Saginaw. He met with Steve to look at the Corvette I was interested in. After meeting with Steve and checking out the car he said I would be a dam fool not to buy the car. It was in unbelievable condition. I proceeded to contact Steve. And after he gave me the history on the car, I was SOLD!! I told Steve I wanted the car! He was a pleasure to work with. Helping in every aspect of the deal. We went to pick up the car the day of a snow storm, (not ideal...) Steve said no worries and moved the car to a massive building he has the night before, and we loaded the car in the trailer in the building out of the weather and snow!!. That was so nice. Steve even helped with loading the vehicle for a safe haul back home.  I would Highly recommened Steve and Adrenaline Motorsports!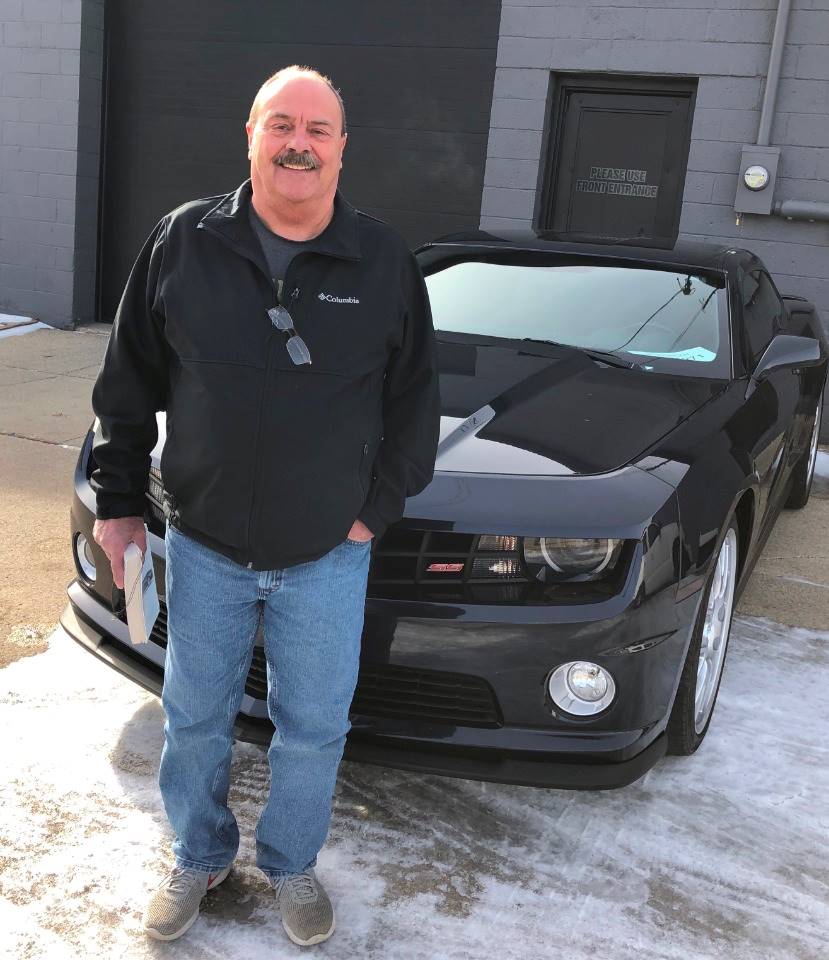 Mike M - 13 Camaro SS DUSK (Flushing, MI)
I was in the market for a car, was not sure what I wanted. My son sent me an add from facebook marketplace for a 2013 limited edition Camaro SS. It was at Adrenaline Motorsportsin Saginaw, What a find!! This car is spotless! I mean showroom nice. It was also priced just right. The owner Steve is a carguy and knows his stuff when it comes to new and older muscle cars. Every car in his showroom is top notch. If anyone's looking for a nice car give him a call. I waited 20 years to buy a car like this!!! This car was worth the wait!!!! Thanks again, Mike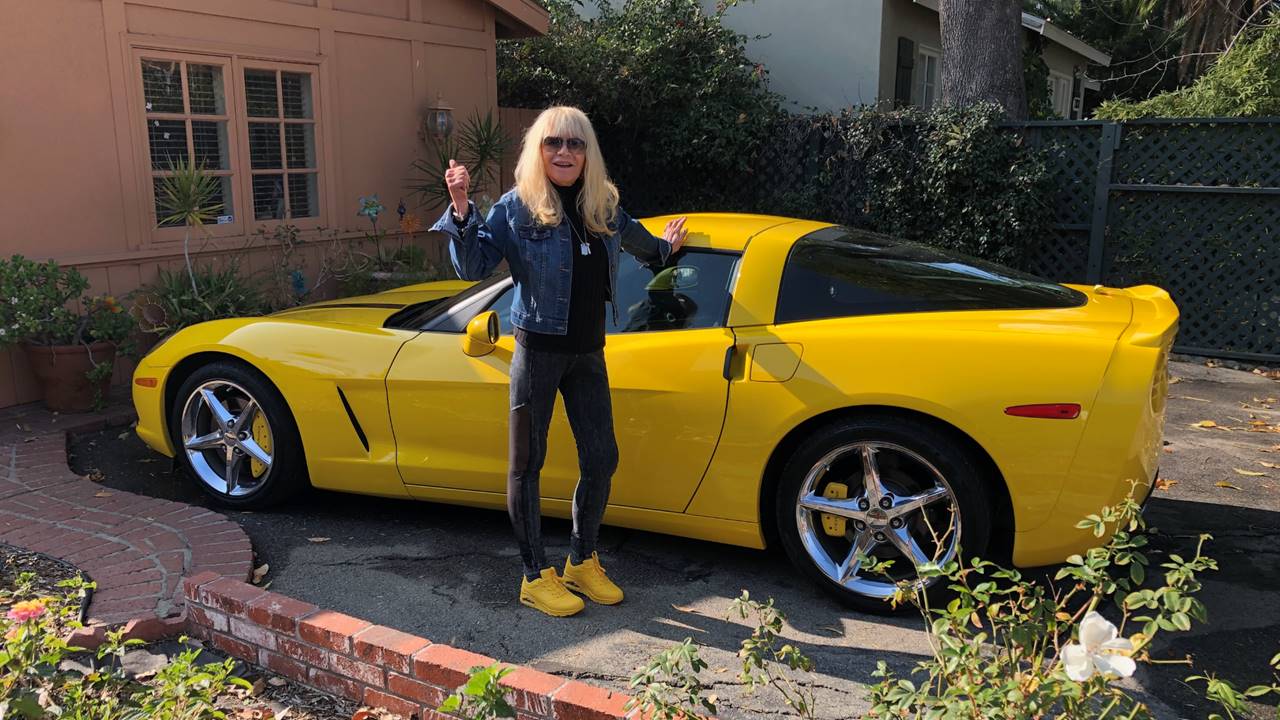 Linda B. - 13 Corvette (Van Nuys, CA)
I found the BEST car dealership!! Adrenaline Motorsports!!! Thanks to Steve, I know have a PERFECT low milage 2013 Corvette!! The whole transaction from start to finish was perfect, almost to good to be true.. But its not, Here's the proof, Me and my new baby!!!  Here in sunny Califorina. I LOVE IT!! And it Matches my shoes. This guy is for real, his cars are for real, and he really knows his business. This was my first on line purchase and it could not have been better... Love ya Steve!! Thank you!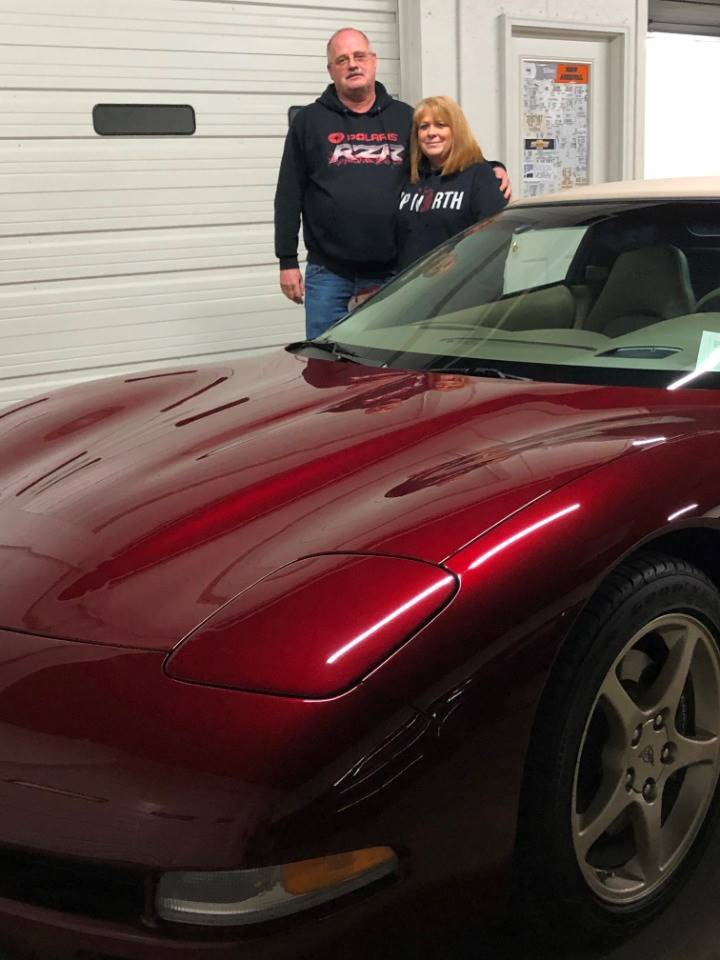 Ken & Cathy V. - 03 Corvette (Houghton Lake, MI)
The quality of inventory at Adrenaline Motorsports was very impressive. We had visited a couple of times recently to check out a specific car and each time enjoyed interesting car talk with Steve. When we made our decision to buy this 2003 50th Anniversary Edition Corvette Conv, Steve was very helpful in the process and even assisted with the transport arrangements. Our overall experience was very positive and we would definitely recommend Adrenaline Motorsports. Thank you Steve! Ken & Cathy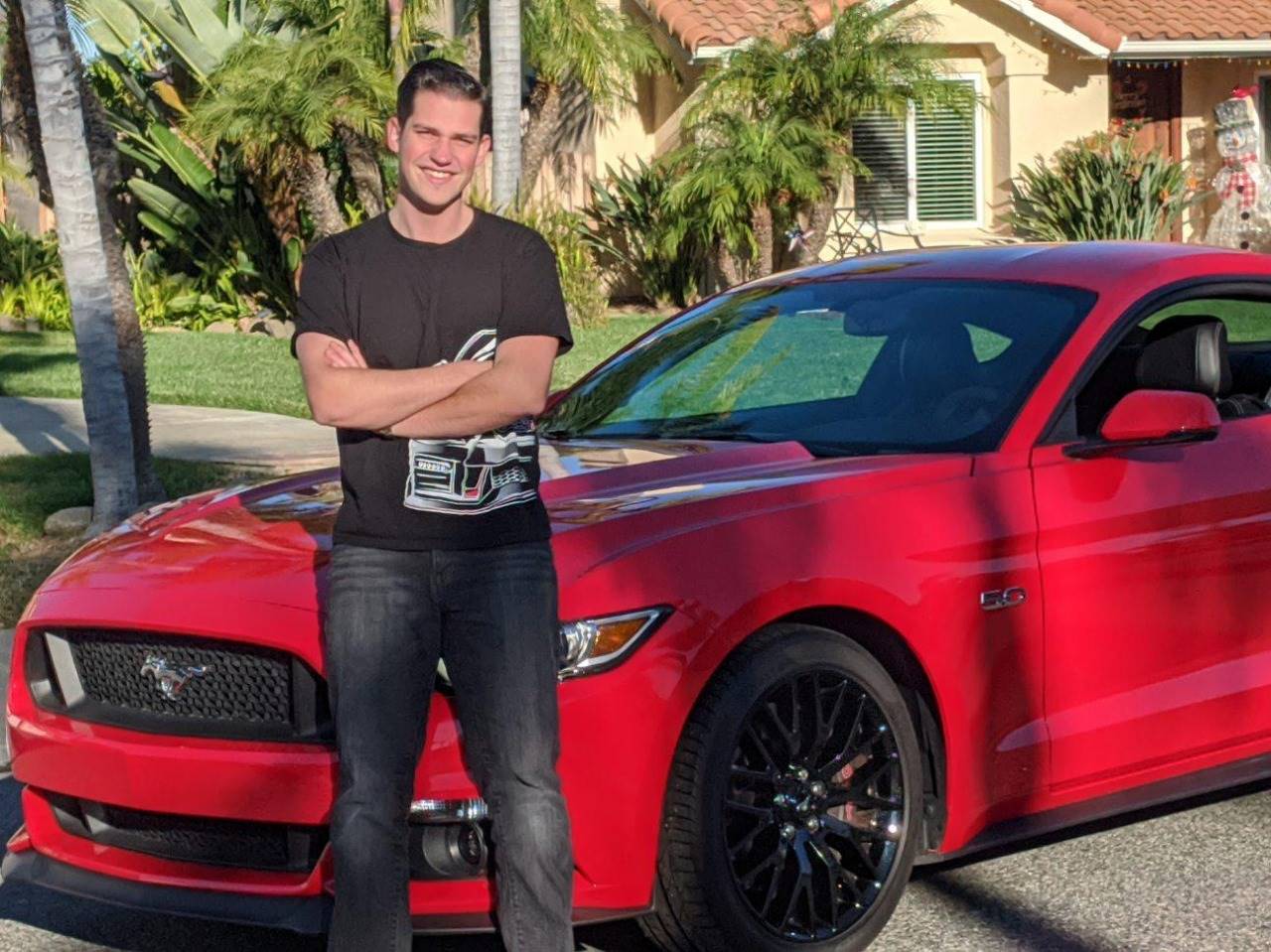 Michael G. - 2016 Mustang GT PP (Oceanside CA)
  Buying a car can be hard, frustrating,painstaking,nerve-racking and it usually ends up never being a good time. I know I sell cars myself and always try to put my customers at ease when there making the second largest purchase in their life. What I can say for Steve is that I have never been treated so well and so taken care of. And felt so important when making a purchaase. I was unbelievably nervous as this was my first time buying across the country and never seeing the vehicle before. But Steve made sure the vehicle was in tip top shape and taken very well care of. I honestly don't think he could've made the process any easier. Thank you Steve, you have earned a customer for life! this is one of the best car purchases I have ever had, and the best car I have ever owned.    Michael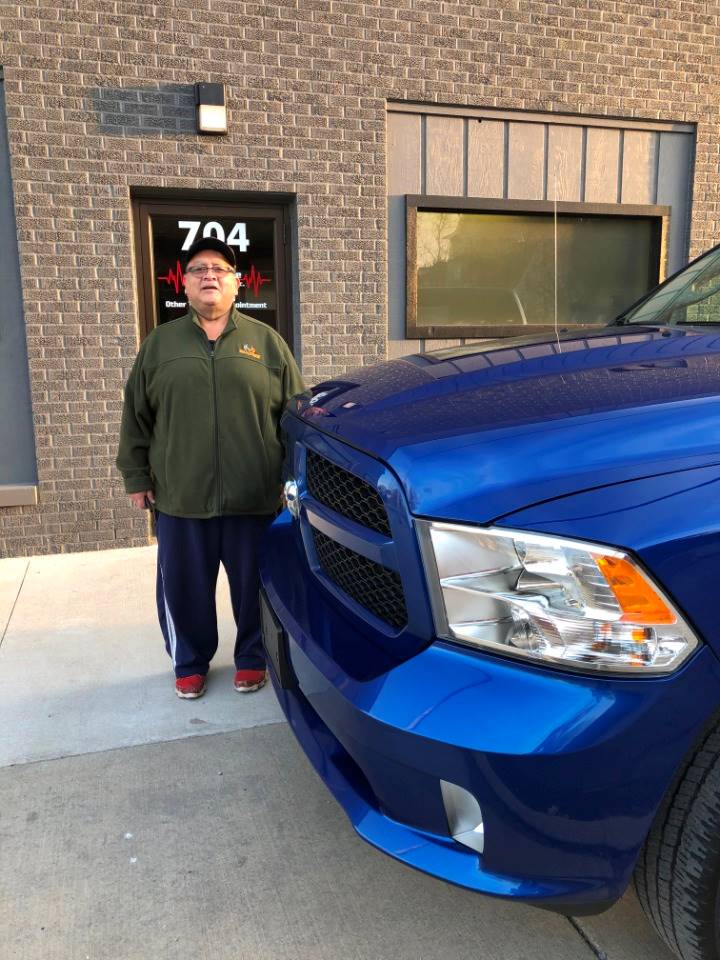 Jim G. - 2015 RAM (Saginaw, MI)
I live in Saginaw 10 minutes away from Steve's place. I just want to give him a shout out. I seen an add on Facebook and the rest is history. I bought a beautiful 2015 RAM truck. I still can not believe how nice my new truck is, and the price was to good to be true. I am 100% happy with my experience. He has very clean, sharp, vehicles.  He uses the term to "as-new" to describe them and mine was!! This is my new baby. If your in the market for a newer vehicle please look him up! Your cars rock! Thank you, Jim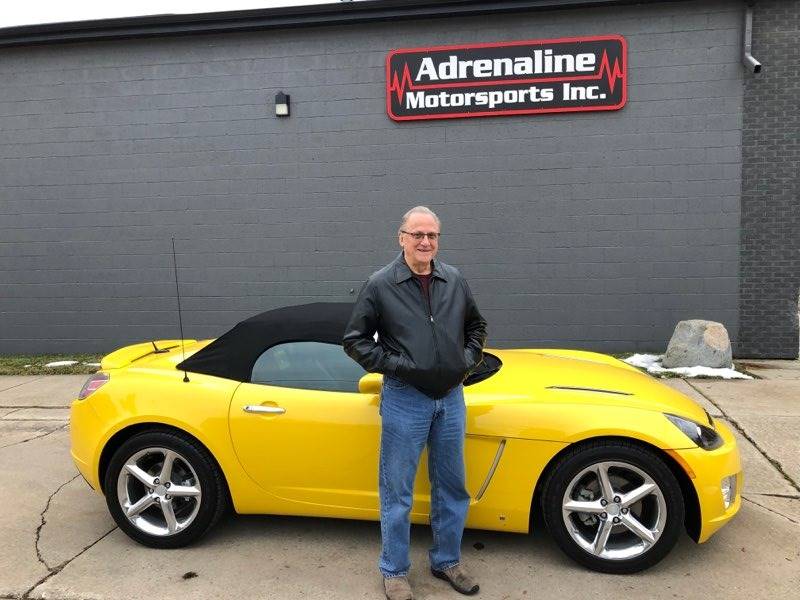 Ron M. - 2008 Saturn Redline (Grand Rapids, MI)
Steve is very informative and straight forward. He lives cars and knows them inside and out. He only handles cars in excellent condition and enjoys taking the time to discuss them and show customers around. I highly recommend him. Yes, I did buy a car. A 2008 Saturn Red Line and it is showroom clean and one cool car! Thank you, Ron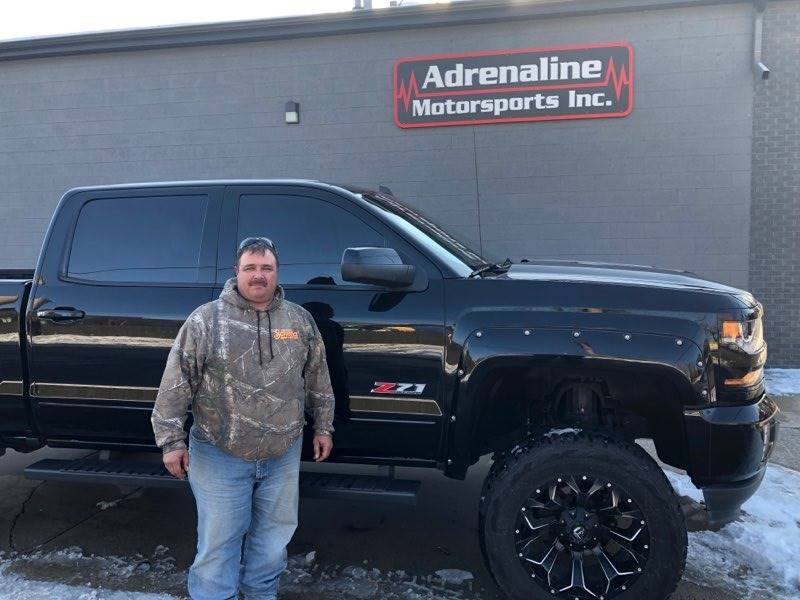 Mike L. 2018 -Chevy Silverado Z-71 (Roseville, MI)
The first time I saw this truck advertised for sale I wanted it.  I contacted Steve and He told me it was a truck he was driving and was in no hurry to sell it. I was happy to hear that because I knew I could not just drive up there and get it because of my work schedule, but the fact that he could tell me all about it, and how it drove was great. After our conversation I told him I worked alot but I wanted the truck. It took me 2 weeks to get up to Saginaw to look at the truck and as soon as I saw it I had to have it. Steve helped me get the financing done and the rest is history. I paid him for the truck and had to leave it there for the weekend while I went to florida. When I came to pick it up he had it detailed for me. I love this truck and am going to trick it out even more. Steve was awesome at Adrenaline Motorsports and I got a great deal.  Thanks Again, Mike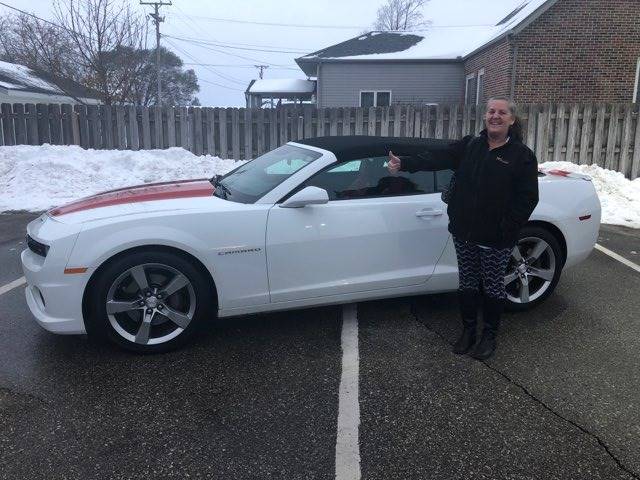 Teresa C. - 2011 Camaro SS (Metamora, MI)
 My old Camaro and I were in an accident and it was totaled. When I first talked to Steve about this Camaro I had 3 days left with my rental car. I went to his office at night with my grand kids to look at the car, did not drive it but I liked it and wanted it. He helped me get it financed through a local credit union and meet me there as they closed and we finished the deal. I was nervous because I had not yet driven the car. Steve told me not to worry as it was a good car. Well I love it, It drives and runs perfect and everything works, as he said it would. I had a unbelievable experience buying this car!  Have no worries with this place or this guy.  Thank you!! Teresa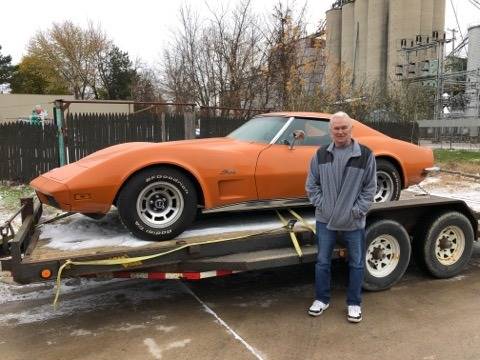 Ron N. -1973 Corvette (Harbor Beach, MI)
 Steve said this was a project car, I was not thiking much of it. Then after talking with Steve I had to look at it, (sounded to good to be true) after seeing the car I asked to hear it run. We sprayed the carb with starter fluid and tured the key it fired right up. I could not belive it. He still honered his price and I could not get the deal done fast enough. It drove on the trailer with no issues.. This car is nicer then some other cars people were trying to sell for double the price. After getting it back home and putting fresh gas in it,  I was driving it the next day.  I am sure glad I made the drive from Harbor beach! thanks again! This car is great!  Thanks, Ron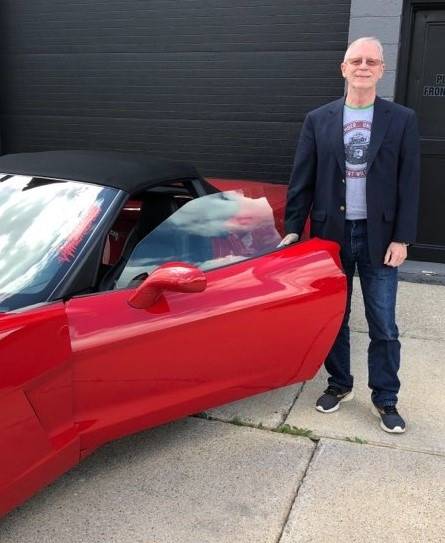 Tim K. - 2008 corvette (Clinton Twp, MI)
This car is awesome, I love it! Dealing with Steve was great he made everything so easy and the car was way better then he described it to be . I had to drive up and look at it, As soon as I saw it I knew I was going to buiy it. I was concerened about not being able to take it home that day, Steve said dont worry about it and kept it inside for me until I was able to pick it up.. And then he said I'll send one of the drivers down to get you when your ready. WHAT? I said. True to his word a driver picked me up at my home and drove me up and I picked up my new car..  I had a GREAT experience. Thank you ever so much, Tim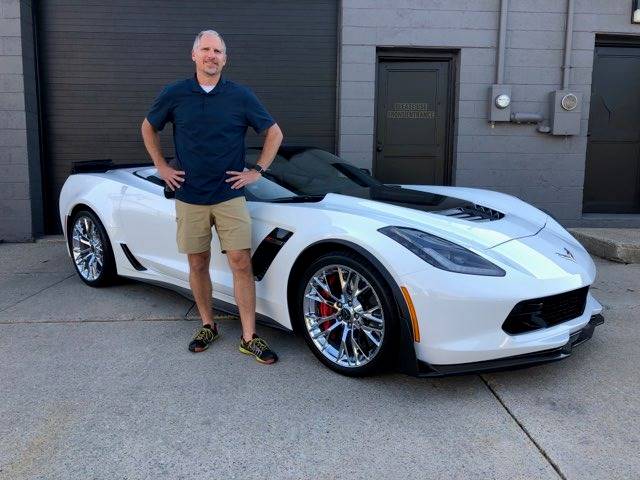 Chris W. - 2016 Z06 (Pinckney,MI)
I heard about this car through a friend. WOW what a car, It was better then new..  I had an awesome experience at Adrenaline Moptorsports. Steve was great to work with on buying my dream car. He really knows his cars and cares about them. Well kept building and Great service! Highly Reommend this place! Thank you, Chris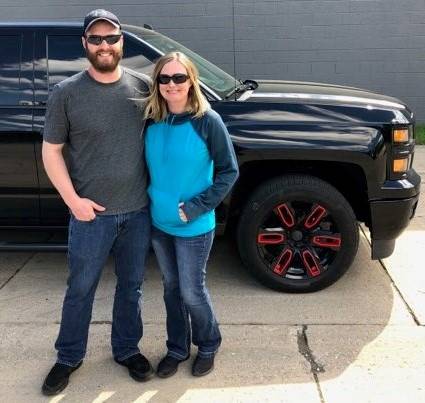 Dustin and Heather - 2014 Silverado (Clare, MI)
Steve was extremely helpful and accommodating when purchasing a truck for my husband and I. He was quick and honest when responding to messages. Unlike other dealers who gave us the runaround, he was straight forward from go. When we finally arrived to look at the vehicle, it was exactly as we expected, and we made the decision to purchase almost immediately. They may not be the "normal" dealership you're used to dealing with, but I would recommend these guys over any big dealership any day! It was great working with you!  Thanks again, Heather V.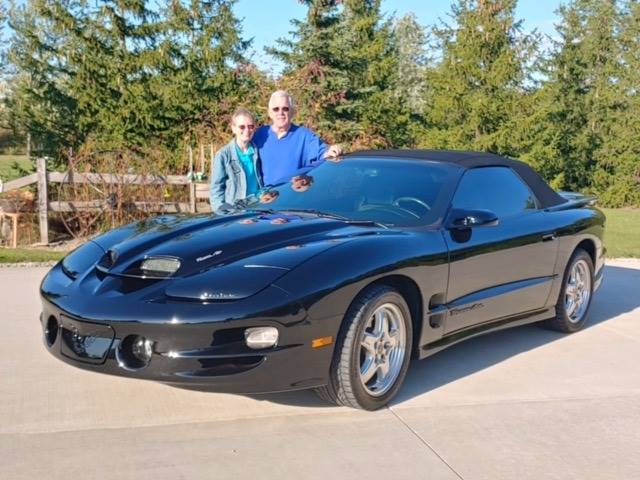 Kevin and Angie - 2002 Trans Am (Ohio)
This past year we have been looking for a vintage auto to replace the two we sold. Through out this endeavor we have had many opportunities but just could not make the buyer/seller chemistry happen. The fun and pride of owning a vintage auto always starts with the previous owner. Thanks to Steve the fun and pride of owning a 2002 Trans Am Firebird is ours!!  Steve's genunie customer service abilites,profound knowledge of vintage auto's and innate honesty speaks very well for Adrenaline Motorsports. Steve excudes an uncommonpassion and knowledge of these cars and is most willing to offer learned advice to best benifit his customers. We are very thankfull that he convinced us to have the car shipped enclosed, The transport service was outstanding and carefree on our part, It was well worth the extra money spent. Our interactions with Steve culminated with a deal in hand and a new found friedship between us!  Thanks again, Kevin and Angie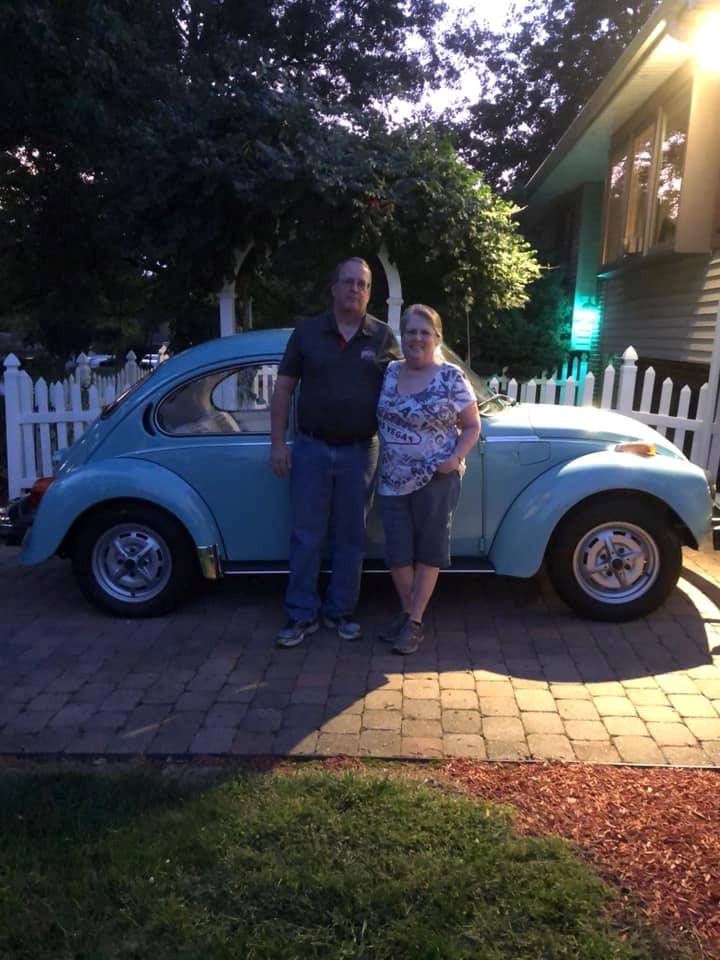 Jon and Mary Jo - 1974 Beetle (Harrisburg, PA)
After facing years of regret after selling my 1973 Super Beetle in high school, I had almost given up all hope of ever finding one in decent condition that I would even consider buying. Finally, when I was in Michigan for a reunion, a listing from Adrenaline Motorsports came across on my phone. I left Michigan before being able to view the Beetle and had to rely on photos and dealer info. Boy, was the dealer ever spot on!! Steve was absolutely awesome from first contact to close and didn't even miss a beat!! If you want a totally truthful representation of a vehicle you are considering from Adrenaline, you MUST give Steve a call!! This is my 49th car so far and, without a doubt, this has been the best buying experience, bar none! This will be my classic car dealer!! I have never had a dealer been this responsive, committed and truly involved in the sale. If you are in the market for a classic, luxury or hard to find vehicle, you owe it to yourself to give Steve a call!! I could honestly write a book on how well this sale went. Thank you Steve!! Jon And Mary Jo. Harrisburg PA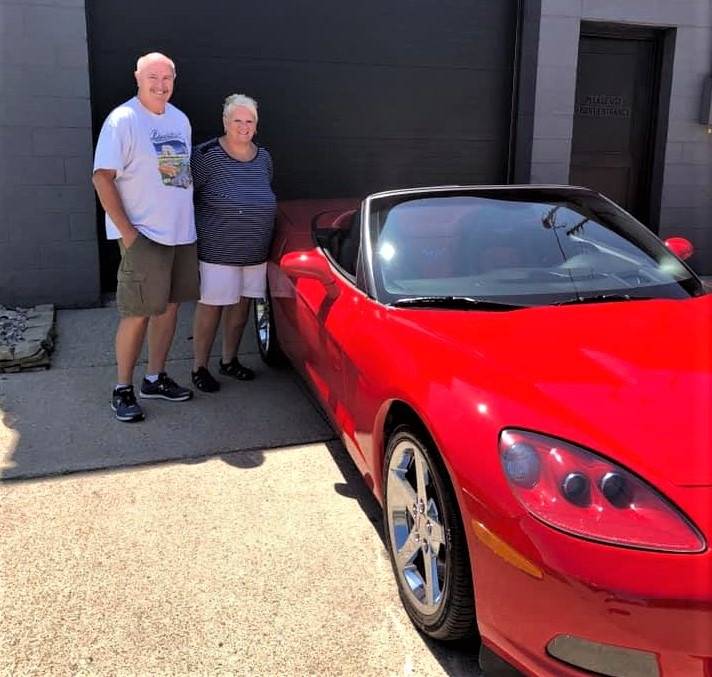 Tom and Audrey - 2007 Corvette (Berkley, MI)
After restoring my Z28 enjoying it fully for 19 years I thought it was time to pursue and purchase everyones dream car, a Corvette. I had been looking around for some time and had visited Adrenaline Motorsports website again and there it was, a 2007 Corvette, red with red interior that I was looking for. Working with Steve was a true pleasure. If you're looking for NO PRESSURE, true representation of the vehicle, and honesty, this is the place to go! Steve encouraged me to look at other Corvettes (which I had been doing) before making the trip to Saginaw. Upon arrival there was no disappointment between the verbal description of the vehicle and the visual. Thanks again, Tom and Audrey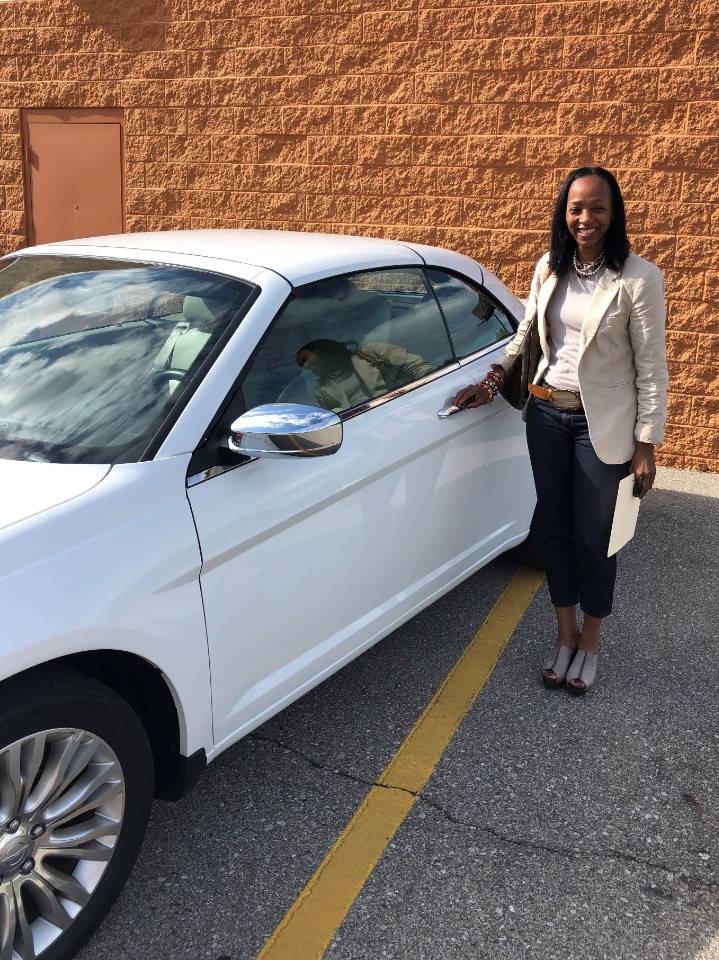 Angelique M. - Chrysler 200 (West Bloomfield, MI)
Adrenaline Motors is Amazing! I had the most magnificent car buying experience! I purchased my dream car from Adrenaline Motors and my daughters and I absolutely love it! Even after I purchased the vehicle the outstanding service continued with assisting me in securing my tags and additional floor mats from the original owner! The price was fair and worth it for the car! This is not your ordinary car dealership-you get your dream car, a fair price, customer service and the comfort of knowing you completed a transaction with an owner with integrity!  Thank you, Angelique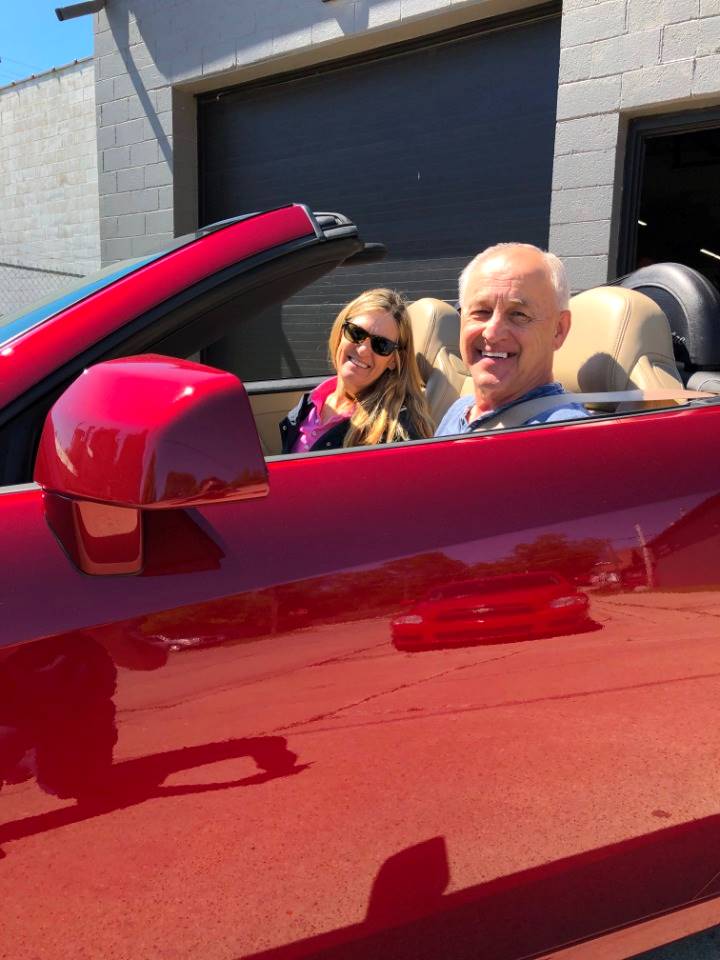 Gary and Martha - Cadillac XLR-V (Pheonix, AZ)
We flew out from Arizona to purchase my dream car from Adrenaline Motorsports Inc. in late June. Steve, the owner made the dream come true. The service he provided was the icing on the cake. Simply cannot say how happy I am with this car and I am forever grateful to Steve for all his help. Thanks again Steve, Gary and Martha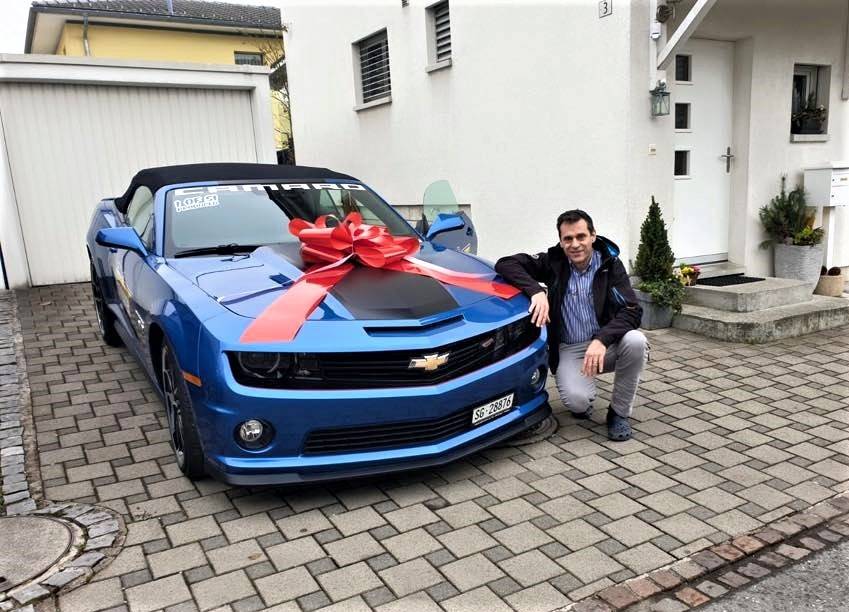 Annina Luchinger - 2013 Pace Car (Switzerland)
Ahhhh safe and sound here in Switzerland Finally!!!  I was a little nervous to say the least to purchase a car so far away. After a few weeks of dealing with Jereme I felt great about doing the deal. When the car arrived here I could not belive the condition, It looked better then the pics!  What a relief. No one here know's what it is and its going to bring so much attention at the shows here. I have never been so happy about a car. The condition of this is 2nd to none, this thing is NEW!!! I can not thank Jereme enough. If your in the states and want the best, here they are.  Thanks,  Annina